Ingredients
Green Lipped Mussel Extract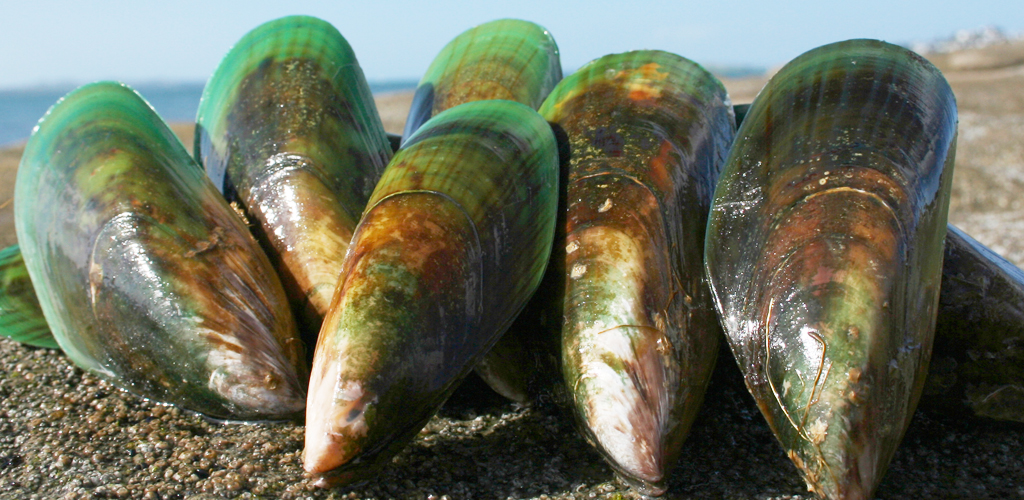 Outline
Green-lipped Mussel Extract (GLME) is a freeze-dried extract of New Zealand green-lipped mussel (Perna canaliculus)that provides relief from the symptoms of arthritis for patients who suffer from this painful and debilitating disease.
The New Zealand green-lipped mussel has unique anti-inflammatory properties not shared by other similar mollusc species. It is not clear which compounds within GLME provide the anti-inflammatory activity, as a number of potentially useful polysaccharides, lipids and proteins have been identified. It seems from scientific research that the therapeutic benefits of GLME are derived from the combination of all these natural compounds rather than from any one specific element.
Numerous scientific studies in animals and humans have demonstrated anti-inflammatory activity with GLME, especially during long-term use. GLME appears to impact on the inflammatory process of arthritis via multiple mechanisms, including the following:
providing the natural 'building blocks' for cartilage repair
inhibiting prostaglandin production, and thereby limiting inflammation and cartilage degradation
inhibiting the enzymatic breakdown of cartilage and connective tissue
modulating the immune response which may help to limit inflammation
reducing apoptosis (programmed cell death) within arthritic joints
this may indicate a shift in the underlying destructive disease process
exerting an antihistamine effect to minimise acute phase inflammatory responses
GLME contains glycosaminoglycans, compounds that have been shown to slow the structural damage within arthritic joints. Importantly, well-designed clinical studies in patients with arthritis have shown that GLME not only reduces symptoms such as pain, but also improves joint function and ability. Pets can also benefit from GLME, as research has demonstrated that the mussel extract can improve the signs of arthritis in cats and dogs with degenerative joint disease. GLME is extremely safe, with research showing no serious adverse effects with GLME. In fact, GLME may actually protect the stomach from the potentially harmful effects of the anti-inflammatory drugs used to treat arthritis.
Early research indicated that simply drying and encapsulating mussels did not produce a consistent product. Additionally, non-active components of the mussels diluted the activity. Two processes were combined to overcome this problem:
A new and innovative mussel processing method was designed which both extracted the mussel from the shell and quickly extracted the active fraction
Freeze-drying was used as the means of preserving and stabilizing the product
While the initial decision to process the mussels in this way was made largely on intuitive grounds, more recent research has shown that mussels processed using less sympathetic manufacturing techniques have greatly reduced anti-inflammatory activity. It is important to note that GLME is the only mussel extract product to be manufactured using this unique activity-conserving process.
Active components
GLME is a purified extract from the New Zealand green-lipped mussel, Perna canaliculus. Numerous scientific studies have shown that GLME has anti-inflammatory activity, and is a beneficial treatment for inflammatory conditions such as arthritis.
Inflammation is a complex process, involving the activation of various enzymatic processes within the body. Some of these processes produce prostaglandins and leukotrienes, substances which cause the redness, swelling and pain of inflammation. Other processes result in the release of histamine, a powerful stimulant of allergic-type inflammatory responses. Inflammation also involves the body's immune system, especially the activation of particular types of white blood cells called neutrophils.
GLME contains several active ingredients with anti-inflammatory properties:
phospholipid lysolecithin (anti-inflammatory and antihistamine)1
polysaccharide glycogen (suppresses immune activation at sites of inflammation)2,3
protein fractions (anti-inflammatory)4,5
lipid fractions (anti-inflammatory and protect the stomach lining)6
Scientists are still in the process of identifying all the anti-inflammatory components of GLME, and it is probable that the therapeutic effects of GLME result from the complementary action of a number of components all working together4. The anti-inflammatory activity of the glycogen fraction of mussel extract is unique to the green-lipped mussel – research has shown that glycogen from blue mussel species or from other bivalve shellfish does not have this effect3.
In addition, about 4-6% of GLME is made up of glycosaminoglycans, important building blocks for the repair of joint cartilage7. GLME also contains hyaluronic acid, a natural component of synovial. In a large clinical trial involving 212 patients with osteoarthritis, glucosamine was shown to prevent joint degeneration and relieve arthritic symptoms8. Glucosamine is a precursor to the important glycosaminoglycan in GLME, which offers arthritis sufferers a treatment that relieves pain and stiffness by both suppressing inflammation and preventing the deterioration of structures (esp. the cartilage) within arthritic joints.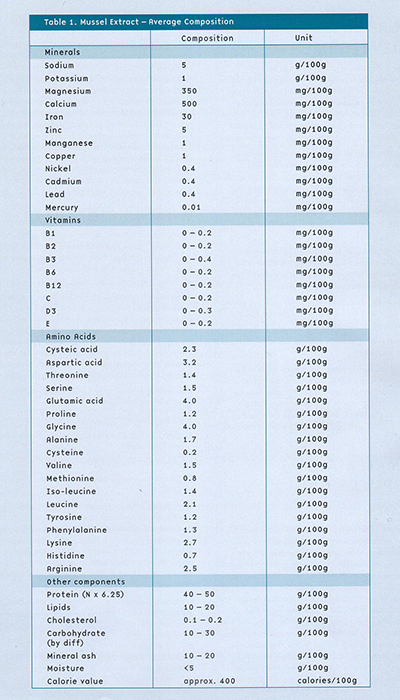 The therapeutic effects of GLME result from the complementary action of a number of componentsall working together.
Health benefit
GLME contains several biologically active components that help to suppress inflammation in arthritic joints and to provide the building blocks for the repair of damaged cartilage. Cartilage is the smooth covering on the ends of bones (fig. 1), and serves two major roles:
Provides a smooth surface so that bones can glide over one another during joint movement
Acts as a shock absorber during moments of stress on the joint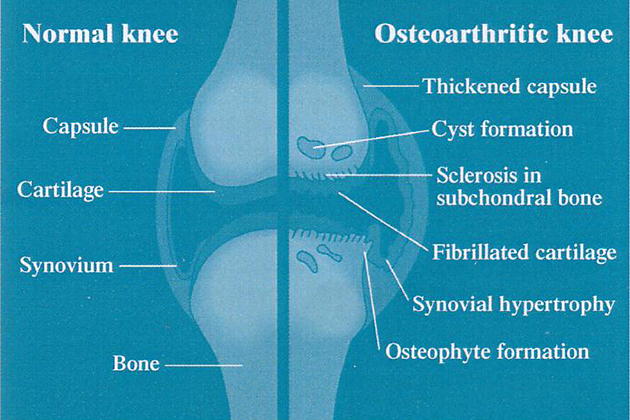 Fig1. The structure of normal and arthritic joints
Cartilage is made up principally of collagen, proteoglycans (complex of proteins and glycosaminoglycans or GAGs), water and specialized cells (chondrocytes). As with all body tissues, cartilage is continually being broken down and rebuilt. However, in an arthritic joint, inflammatory processes accelerate cartilage degradation,causing many of the symptoms and joint deformities associated with arthritis. GLME can help to reverse this process by7:
Providing enough raw materials (GAGs) to maintain optimal cartilage synthesis
Inhibiting prostaglandin production, and thereby limiting inflammation and the cartilage degradation
Containing chondroitin sulfates that may inhibit the catabolic cytokine-initiated degradation of cartilage
Modulating the immune response which may help to limit inflammation
Reducing apoptosis (programmed cell death) within arthritic
Joints
this may indicate a shift in the underlying destructive disease process
Exerting an antihistamine effect to minimise acute-phase inflammatory responses.
The anti–inflammatory actions of GLME
Numerous studies have shown that GLME directly inhibits the inflammatory process in animal models of arthritis3,5-7,9-13 and in people suffering from arthritis4,7,13,14. A number of mechanisms for this anti-inflammatory activity have been identified. The inflammation seen in arthritic joints is a complex process, and involves both local inflammatory responses and chronic (long-term) immune responses (fig. 2). Importantly, GLME has been shown to modify both these responses.
GLME helps to relieve the pain and inflammation of arthritis by maintaining cartilage integrity and limiting the underlying inflammatory processes.
1. Inhibition of the production of inflammatory prostaglandins and histamine
GLME inhibits the production of inflammatory prostaglandins15 and histamine3. By inhibiting the production of these tissue hormones, GLME reduces the swelling(oedema) and pain that prostaglandins and histamine produce at sites of inflammation.
2. Inhibition of the accumulation of white blood cells inflammatory sites
GLME inhibits the accumulation of white blood cells (neutrophils2 and T lymphocytes16) at inflammatory sites. Neutrophils contribute to the inflammatory response by stimulating the release of inflammatory mediators. T lymphocytes have been shown to be important mediators in the tissue destruction seen in rheumatoid arthritis.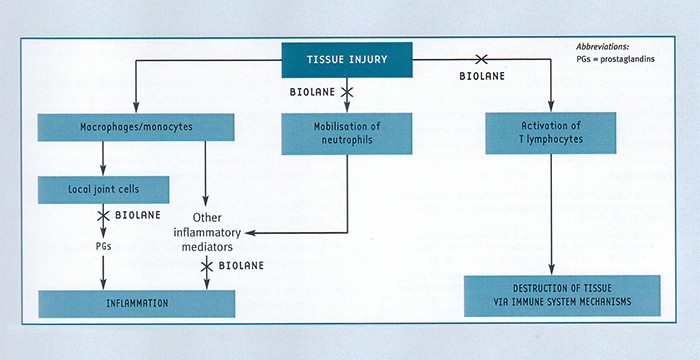 Fig 2. Inflammatory and immune mechanisms in arthritis
Gastroprotective effect
It is not only important for an anti-inflammatory product to be effective, it must also be safe for people to take. Arthritis patients are often elderly, so they are at increased risk of developing side effects from drugs because of age-related deterioration in organ function. Drugs used to treat arthritis can be associated with potentially serious adverse effects. The nonsteroidal anti-inflammatory drugs (NSAIDs) are the most commonly used agents for arthritis, and carry a high risk of gastrointestinal ulceration and bleeding. It is estimated that 17,000 people die each year in the USA because of serious gastrointestinal bleeding associated with NSAID use.
GLME is safe and may in fact protect the stomach from the potentially harmful gastrointestinal effects of arthritis drugs.
Early research in animals indicated that, not only did GLME not cause any ulceration of the stomach lining, it actually protected the stomach from the harmful effects of NSAIDs6. The lipid fractions in GLME were identified as the components with the gastroprotective properties, and these fractions also showed some mild anti-inflammatory effects. These findings are important, because they indicate that patients with arthritis can take GLME in addition to their normal medication, and GLME will help to protect their stomach lining from the harmful effects of these drugs.
Studies have shown that GLME is a selective inhibitor of cyclo-oxygenase type 217. Inhibiting the activity of cyclo-oxygenase enzymes, which convert cell membrane phospholipids into pro-inflammatory prostaglandins, is an important anti-inflammatory mechanism. However, there are two isozymes of cyclo-oxygenase designated COX-1 and COX-2. The COX-1 isozyme is a constitutional enzyme that has an important role in maintaining the health and integrity of the digestive system,kidney function and platelet aggregation, whereas the COX-2 isozyme is induced in response to an inflammatory stimulus26. The fact that GLME is able to inhibit COX-2 activity without inhibiting COX-1 activity (i.e. it is COX-2 selective) means that the product does not have any damaging effects on the stomach, and does not adversely affect kidney function or platelet aggregation.
These properties make GLME unique in comparison to other anti-inflammatory treatments such as the traditional non-steroidal anti-inflammatory drugs (NSAIDs), glucosamine and chondroitin sulphate. The adverse effects of traditional NSAIDs on the stomach, kidneys and platelets (which are due to their non-selective properties) are well known, while a US Health Sciences Institute e-Alert dated May 2002 reported adverse effects of supplements containing glucosamine and chondroitin sulphate in patients being treated for prostate cancer19.
The lipid components of GLME have also been shown to inhibit the 5-lipoxygenase conversion of cell membranephos pholipids to pro-inflammatory and bronchoconstrictive leukotrienes20. This additional inhibitory function means that GLME will prevent or minimise the long-term tissue damage associated with the products of the 5-lipoxygenase activity28.
MMP Inhibitory Effects by GLME
Matrix metalloproteinases (MMPs) are a family of highly homologous protein-degrading zinc dependent enzymes endopeptidases. This family currently includes more than 25 members that can be divided into collagenases (MMP-1, -8, and -13), gelatinases (MMP-2 and 9), stromelysins (MMP-3 and 10), matrilysins (MMP-7 and 26), and the membrane-type MMPs (MMP-14 to 17 and 24).
MMPs are important in many normal biological processes including embryonic development, angiogenesis, and wound healing, as well as in pathological processes such as inflammation, cancer, and tissue destruction. MMPs collectively cleave most, if not all, of the constituents of the extracellular matrix (ECM) and are involved in the breakdown and remodeling of many tissues and organs.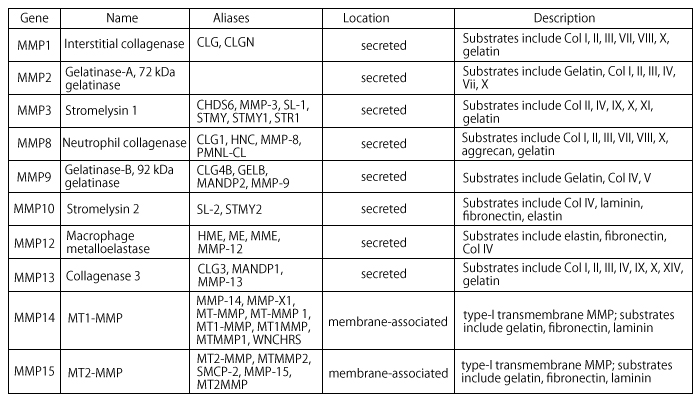 Table 2. MMP Genes
MMP1 or Interstitial Collagenase
Cleaves fibrillar collagen, degrades interstitial collagens, types I, II and III.
MMP3 or Stromelysin
Extracellular endopeptidase, digests proteoglycan; fibronectin; collagen types III IV IV, and IX, and activates procollagenase.
MMP8 or Collagenase2
Cleaves triple-helical collagen types I, II, and III.
MMP13 or Collagenase3
A secreted MMP that plays a physiological role in the degradation of extracellular matrix found in skeletal tissues.

MMPs are collectively able to degrade virtually all ECM components. In cancer, special emphasis was initially placed on the degradation of type IV collagen, a major protein component of basement membranes by MMP2 and MMP9. MMP-induced release from the cell surface (shedding) of heparin binding epithelial growth factor, insulin-like growth factor, and fibroblast growth factor enhance cell proliferation. On the other hand, release and activation of ECM sequestered TGFß by MMPs can lead to inhibition of cell proliferation. MMP-induced shedding of Fas ligand from the cell surface can either enhance or interfere with cell survival. MMP14 and MMP1 have also been incriminated in enhancing cancer cell migration.

Cartilage degradation is a multistep process based on the release of matrix-degrading enzymes such as aggrecanases (ADAMTS) and matrix metalloproteinases (MMPs). Cytokines such as interleukin-1 (IL-1) and IL-17 induce a switch in the synthesis pattern of chondrocytes from matrix molecules to matrix-degrading enzymes. In addition, synovial fibroblasts start producing matrix-degrading enzymes and invade cartilage when activated by cytokines such as tumor-necrosis factor (TNF) and IL-1. Chondrocyte death is another feature of cartilage damage, it leads to the formation of empty lacunae and deprives cartilage from the ability to replenish matrix.

Photoaging occurs following prolonged exposure to solar ultraviolet (UVR) radiation and is characterized by skin thickening, rough texture, coarse wrinkles, and age spots. Following UVR light exposure, a chain reaction of biochemical events is triggered that overrides the normal functioning of skin cells and sends them into a survival or death mode. A state of inflammation is established and immune cells are activated resulting in the release of chemical entities to defend against foreign bodies and to activate protective mechanisms. These processes result in the production of molecules that cause cell death, induce skin pigment synthesis to shield the skin against future UVR insults, and induce enzymes called metalloproteinases that break down the skin matrix, thereby causing the skin to sag and wrinkle.

In advanced research studies GLME has been shown to effectively inhibit matrix metalloprotease (MMP) activity across a range of 14 MMPs with significant inhibition of MMP-1,-3 -8 and-13, the ones directly involved in the degredation of collagen and elastin. The studies were conducted at an independent specialist laboratory in New Zealand and all factions of the studies were thoroughly validated to international standards.
Research
GLME has been studied in a number of clinical trials in patients with arthritis and in animals with degenerative joint disease (a condition closely resembling human osteoarthritis). The results of these studies have been very promising, and demonstrated that GLME can significantly reduce the symptoms of arthritis.
Effective in rheumatoid arthritis and osteoarthritis
The first major clinical trial of GLME assessed the effects of treatment in 66 patients with rheumatoid arthritis (RA) or osteoarthritis (OA)13. Patients were randomised to receive either GLME 1050 mg/day (n= 33) or placebo (n=33) for three months. All patients then received GLME for a further three months in an open-label extension phase of the trial. Importantly, this study used a double-blind design, in which neither patients nor physicians knew which treatment group they had been assigned to. This type of design ensures that patients and physicians are unbiased in their assessment of the effectiveness of treatment.
During the first 3 months of the trial (the double-blind phase), more patients in the GLME group showed clinical improvement than in the placebo group (fig. 3).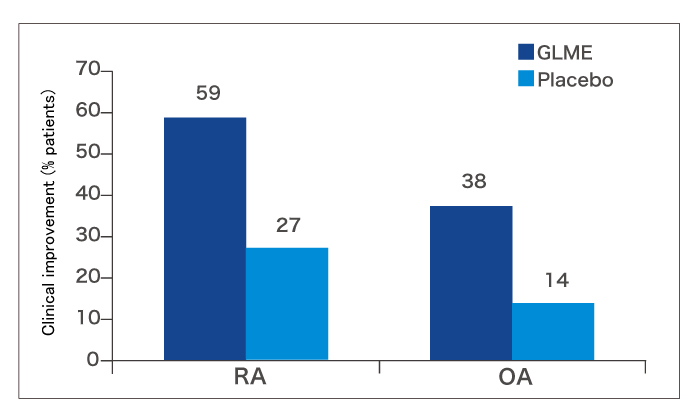 Fig 3. Improvements in RA and OA patients taking GLME or placebo in a randomised, double-blind study
During the second 3 months of the trial (when all patients took GLME), a further 6 RA and 6 OA patients improved. This resulted in an overall improvement rate at 6 months of 67.9% in the RA group and 39.5% in the OA group. Patients who responded experienced better joint function, less pain and better mobility. Moreover, 37% of patients who were experiencing night pain at the start of the trial were free of nocturnal pain during GLME treatment.
These impressive results are supported by the findings of a study conducted by French researchers in 53 patients with arthritis of the knee14. By enrolling patients with arthritis of only one joint, these researchers eliminated any potentially confounding factors associated with diffuse inflammatory arthritis that may have distorted the results.
As with the study by Gibson et al., patients were randomly assigned to either placebo or GLME in a double-blind fashion (identical capsules). They were assessed after 6 months for any change in:
functional disability
pain
duration of morning limbering up time
indices of joint mobility
maximum walking distance
patient or physician assessment of clinical improvement
At the end of 6 months, the patients taking GLME showed statistically significant improvements in pain, functional ability and in their own and their doctor's assessment of effectiveness (fig. 4), compared with placebo. The other assessments also favoured GLME over placebo but did not reach statistical significance.

Fig 4. Significant improvements in pain with GLME in patients with arthritis of the knee in a randomised, double-blind study
These results are supported by a long-term study in 120 patients with arthritis of the knee conducted in the USA7. In this study, all patients received GLME (there was no placebo control group) for at least a year. After 12 months of treatment, most patients reported some or much improvement (fig. 5). A considerable number of patients were able to reduce their intake of nonsteroidal anti-inflammatory drugs by at least 50%. The most marked improvement was seen in patients with mild to moderate disease.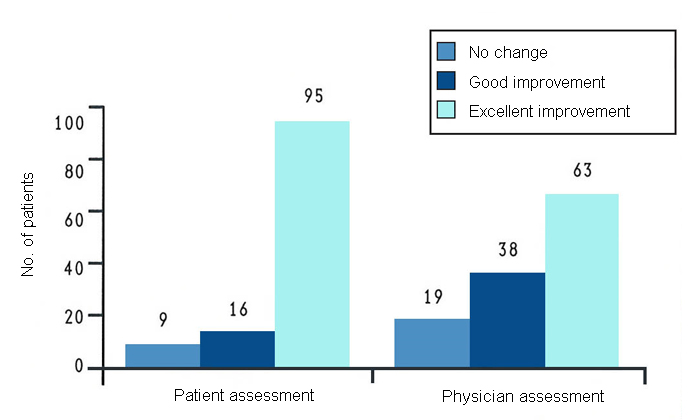 Fig5. Improvements in clinical status reported by 120 patients and treating physicians after 1 year of therapy with GLME for arthritis of the knee
Joint space narrowing is one of the key x-ray findings of patients with osteoarthritis. Figure 6 is an x-ray of the knees of a patient with osteoarthritis, before and after taking GLME for 15 months. It is clearly visible on these x-rays that GLME has reversed the joint space narrowing in the patient's osteoarthritic knees.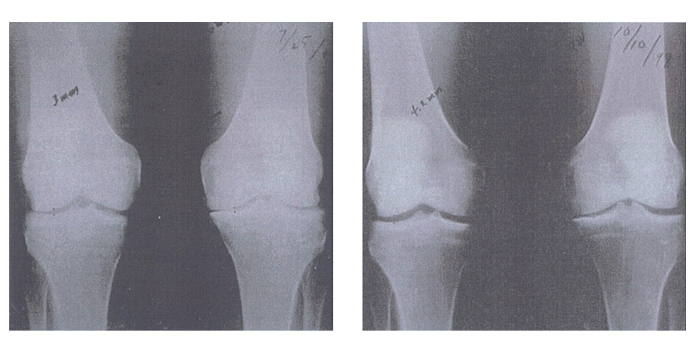 Fig6. Standing x-rays of a 53 year old man with grade III osteoarthritis showing reversal of progressive joint space narrowing after 15 months of treatment with GLME
[Kendall R, et al. Townsend Letter for Doctores and Patients 2000; Jul: 98-11]
Not all studies of GLME have shown such impressive results21-24. However, these negative studies had design flaws which compromised the validity of the findings. For example, a study by Highton and McArthur included only 6 patients and its duration (6 weeks) was too short to produce a valid result in a condition that requires long-term treatment24.
The effectiveness of GLME in the treatment of arthritis in cats and dogs
The effectiveness of GLME in the treatment of arthritis is supported by studies demonstrating that GLME also reduces signs of joint disease in cats and dogs with degenerative joint disease (DJD)10,12,25, a condition similar in pathophysiology to human arthritis. In the first study, 43 dogs and 6 cats with various forms of arthritic joint disease received GLME for several weeks. At the end of treatment, 93% of the animals had benefited from treatment, with 37% obtaining remarkable benefit12.
In another study, 81 dogs with DJD were randomly allocated to double-blind treatment with GLME or placebo for 7 weeks10. At the end of this time, a statistically significantly higher proportion of dogs treated with GLME had shown improvement in their clinical condition (66.7% with GLME compared with 40.5% taking placebo; p=0.018). All dogs took GLME for a further 56 days in an open-label manner, and the proportion of animals showing improvement at the end of 122 days of treatment increased to 78.4%. While this further improvement may have resulted in part from owner perceptions (now that they knew their pets were taking GLME), another explanation is that the longer duration of administration resulted in further clinical benefit.
This is supported by the findings of a randomised, double-blind study (in which owners did not know their dogs were receiving mussel extract)25. In this study, dogs were randomly assigned to a diet of dry dog food with or without added green-lipped mussel extract. Veterinarians gave each dog an arthritis severity score based on degree of pain, swelling, crepitus, and reduction in range of movement. After 6 weeks, there was significant improvement in arthritis score in the group receiving green-lipped mussel extract compared with the control group, and the change was especially evident in scores for pain and joint swelling25. It is possible that even more marked effects may be evident if GLME is given as a supplement rather than added to food.
Speeds recovery from soft tissue damage
Another interesting clinical finding with GLME is that the mussel extract speeds the recovery of soft tissue damage associated with sporting injury26. This study involved 20 male cyclists who were randomly allocated to take GLME or placebo in a double-blind fashion. All cyclists underwent a 40km time trial and then a series of drop jumps to induce muscle damage. Those taking GLME were more likely to recover their peak power within 2 weeks of muscle damage and to recover to a greater extent. This study suggests that the anti-inflammatory effects of GLME may assist in recovery after soft tissue damage in healthy people.
Contraindications
Researchers have shown that GLME has no toxic effects in animals when administered at a dose much higher than the recommended dose27. Not only was GLME safe at very high dosages, but it also had no teratogenic effects (i.e. no harmful effects on developing fetuses when administered to pregnant animals). However, GLME is prepared from shellfish. If you have a seafood allergy, please consult a doctor or pharmacist before use.
References
Kosuge T, Tsuji K, Ishida H, Yamaguchi T. Isolation of an anti-histaminic substance from green-lipped mussel (Perna canaliculus). Chem Pharm Bull 1986; 34 (11):4825-8
Miller TE, Dodd J, Ormrod DJ, Geddes R. Anti-inflammatory activity of glycogen extracted from Perna canaliculus (NZ green-lipped mussel). Agents Actions 1993; 38 (Special Conference issue):C139-42
Knaus UG, Tubar A, Wagner H. Pharmacological properties of glycogens: anti-complementary and anti-inflammatory action of mussel glycogen (Perna canaliculus). Department of Immunology Imm2, Scripps Clinic and Research Foundation, La Jolla, California, USA. Also Universities of Trieste, Italy and Munich, Germany.
Billard H. Extract of Perna Canaliculus (New Zealand green-lipped mussel) in rheumatology. La Gazette Medicale 1985;92 (7):1-5
Couch RAF, Ormrod DJ, Miller TE, Watkins WB. Anti-inflammatory activity in fractionated extracts of green-lipped mussel. NZ Med J 1982;95 (720):803-6
Rainsford KD, Whitehouse MW. Gastroprotective and anti-inflammatory properties of green lipped mussel (Perna canaliculus) preparation. Arzneim Forsch/Drug Res 1980; 30 (11):2128-32
Kendall RV, Lawson JW, Hurley LA. New research and a clinical report on the use of Perna canaliculus in the management of arthritis. Townsend Letter for Doctors & Patients 2000; 204:99-111
Reginster JY, Deroisy R, Rovati LC, et al. Long-term effects of glucosamine sulphate on osteoarthritis progression: a randomized, placebo-controlled clinical trial. Lancet 2001l; 357:251-6
Miller TE, Ormrod D. The anti-inflammatory activity of Perna canaliculus (NZ green lipped mussel). NZ Med J 1980; 92 (667): 187-93
Ankenbauer-Perkins K, Slacek B, Alexander A et al. Final report on the efficacy of green-lipped mussel extract in the management of degenerative joint disease in dogs. Study no. AHSC-75353. September 1999. Animal Health Sciences Center, Massey University, Palmerston North, New Zealand.
Daum A. The influence of Seatone (RO 49-0282/100), and fractions of Seatone, on the established adjuvant arthritis of the rat. Roche Laboratories Report, Switzerland 1976
Orima H, Fujita M, Omura T, Kurihara N. Clinical Effects of the extract of the New Zealand Green-Lipped Mussel of Dogs and Cats with Joint Diseases. Report from the Nippon Veterinary Animal Science University, Japan, 1998
Gibson RG, Gibson SLM, Conway V, et al. Perna canaliculus in the treatment of arthritis. Practitioner 1980; 224; 955-60
Audeval B, Bouchacouet P. Double blind, placebo controlled study of the mussel Perna canaliculus (New Zealand Green-lipped mussel) in gonarthritis (arthritis of the knee). La Gazette Medicale 1986; 93 (38): 111-5
Miller T, Wu H. In vivo evidence for prostaglandin inhibitory in New Zealand green-lipped mussel extract. NZ Med J 1984; 97: 355-7
Miller TE, Ormrod DJ, Findon G. Evaluation of the effect of Seatone administration on cell-mediated immune mechanisms determined using in vitro and in vivo analysis of T lymphocyte function. Private study in the Department of Medicine, University of Auckland 1984
Personal communication from researchers at the Wellington Clinical School,. University of Otago School of Medicine, New Zealand. Results of COX-2 Specificity Study, 2002
Smith WL, Meade EA, DeWitt DL. Interactions of PGH synthase isozymes-1 and –2 with NSAIDs. Ann NY Acad Sci 1994; 744:50-7
A Emelyanov, G Fedoseev, O Krasnoschekova, A Abulimity, T Trendeleva, P J Barnes. Health Sciences Institute e-Alert. Treatment of asthma with lipid extract of New Zealand green-lipped mussel: a randomised clinical trial. Eur Respir J 2002 Sep; 20(3): 596-600.
Personal communication from researchers at the Department of Medicine, University of Adelaide, Australia. Green-Lipped Mussel Lipids and the inhibition of 5-Lipoxygenase,1998
Lakin JG, Capell HA, Sturrock RD. Seatone in rheumatoid arthritis: a six-month placebo-controlled study. Ann Rheum Dis 1985; 44:199-201
Caughey DE, Grigor RR, Caughey EB, et al. Perna canaliculus in the treatment of rheumatoid arthritis. Eur J Rheum Inflam 1983; 6:197-200
Huskisson EC, Scott J, Bryans R. Seatone is ineffective in rheumatoid arthritis. Br Med J 1981; 282:1358-9
Highton TC, McArthur AW. Pilot study on the effect of New Zealand green mussel on rheumatoid arthritis. NZ Med J 1975; Mar 12:261-2
Bui LM, Bierer TL. Influence of green lipped mussels (Perna canaliculus) in alleviating signs of arthritis in dogs. Veterin Ther 2001; 2 (2): 101-11
Lambert M, Semark A, Grobler L. The ergogenic properties of Seatone. Research Report by MRC/UCT Bioenergetics of Exercise Research Unit, UCT Medical School, Sport Science Institute of South Africa, 31st August 1998
Data on file. Unpublished research conducted at the University of Auckland, New Zealand in 1979 and 1981
Bertolini A, Ottani A, Sandrini M. Dual acting anti-inflammatory drugs: a reappraisal. Pharmacol Res 2001; 44 (6): 437-50